Sri Lankan Parliament Speaker to visit Vietnam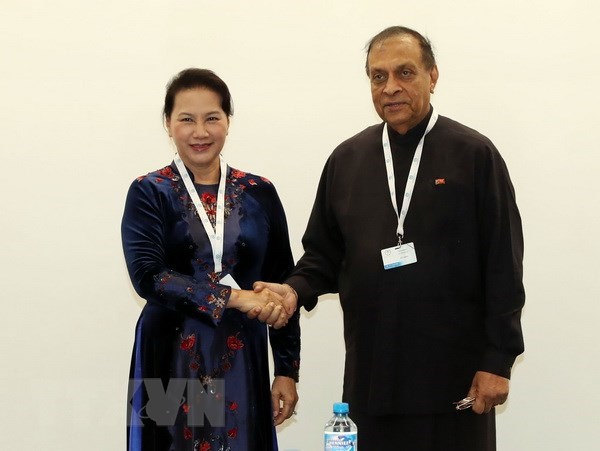 National Assembly Chairwoman Nguyen Thi Kim Ngan met Speaker of the Sri Lankan Parliament Karu Jayasuriya on the sidelines of the 138th Inter-Parliamentary Union Assembly (IPU-138) 
A delegation of the Sri Lankan Parliament led by its Speaker Karu Jayasuriya will pay an official visit to Vietnam from April 23-27.
The visit will be made at the invitation of National Assembly Chairwoman Nguyen Thi Kim Ngan, announced the NA's Committee for External Affairs.
Vietnam and Sri Lanka established diplomatic relations in 1970. The two countries are targeting 1 billion USD in two-way trade in 2020.
Hanoi officials pay tribute to Lenin on his birthday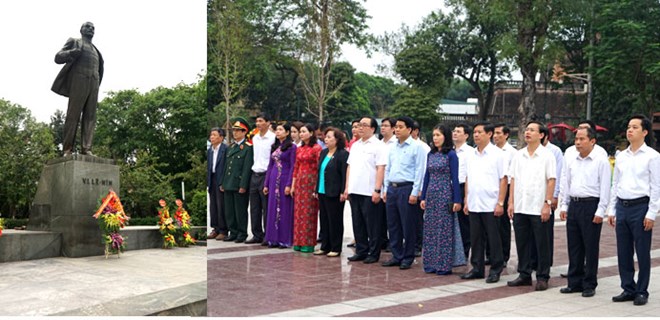 The Hanoi delegation laid wreaths at Vladimir Ilyich Lenin's statue in Lenin Park. (Source: hanoimoi.com.vn)
A delegation of the Party Committee, People's Council, People's Committee, and Fatherland Front Committee of Hanoi on April 22 laid wreaths at Vladimir Ilyich Lenin's statue in Lenin Park, on the occasion of his 148th birthday (April 22, 1870). 
The delegation was led by Politburo member Hoang Trung Hai, Secretary of the municipal Party Committee.
Chairman of the municipal People's Committee Nguyen Duc Chung and Chairwoman of the municipal People's Council Nguyen Thi Bich Ngoc also joined the delegation.
This is an annual activity of Hanoi officials to commemorate Lenin, one of the most eminent political figures and revolutionary thinkers of the 20th century.
Lenin masterminded the Bolshevik take-over of power in Russia in 1917. He was the architect and first leader of the former Union of Soviet Socialist Republics (USSR).
He was also a great teacher of workers worldwide.
Vietnam, Mexico share experience in external information service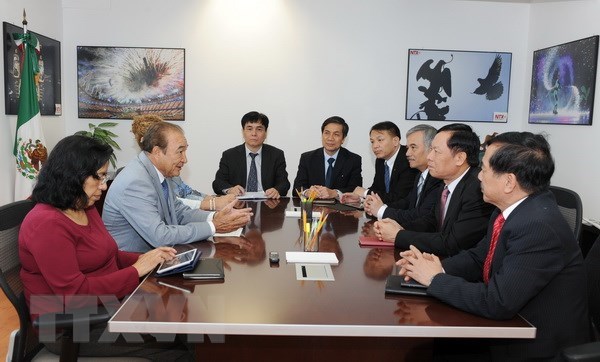 Pham Van Linh (second, right) at the working session with Notimex General Director Alejandro Ramos Esquivel. 
Pham Van Linh, deputy head of the Central Steering Committee for External Information Services, has called on Mexico's Notimex news agency to expand its relations with Vietnamese press agencies in order to increase the coverage of Vietnam and Mexico in all aspects. 
At a recent working session with Notimex General Director Alejandro Ramos Esquivel, Linh stressed the need to increase the exchange of press delegations between the two countries.  
He highly evaluated Notimex's role in promoting Vietnam's images and foreign policy to people of Mexico and other Latin American nations. 
The official applauded the effective cooperation between Notimex and the Vietnam News Agency (VNA) over the past years, saying that their affiliation has contributed to promoting relations between Vietnam and Mexico all fields. 
Sharing Linh's views on cooperation between the two news agencies, Alejandro Ramos expressed his willingness to expand collaboration with other Vietnamese press agencies in order to introduce the economic, political, social and cultural lives of Vietnamese and Mexican people. 
On this occasion, Linh presented a certificate recognising Alejandro Ramos's participation in the National External Information Service Award in 2016. 
While in Mexico from April 18-21, Linh also met with General Director of the Mexican journalists club Mouris Salloum George, during which the official urged the club to increase the dissemination of information about Vietnam, helping Mexican people and Latin American friends understand more about the country and people of Vietnam. 
Linh and his encourage were also welcomed by General Secretary of Mexico's Labour Party (PT) Alberto Anaya. 
The Vietnamese delegation also visited the Vietnamese Embassy and paid floral tribute to President Ho Chi Minh at his statue in Mexico City.
Seminar talks ASEAN's role, Vietnam-Mexico ties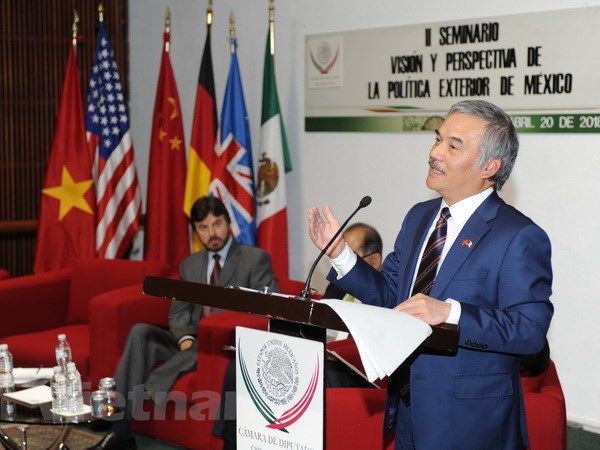 Vietnamese Ambassador to Mexico Nguyen Hoai Duong 
Vietnamese Ambassador to Mexico Nguyen Hoai Duong highlighted the role of the ASEAN Community in the international arena and Vietnam-Mexico relations at a seminar on the Vision and Prospects of Mexico's External Policy held by its Chamber of Deputies on April 20.
Duong recalled the 50-year foundation and development of the Association of Southeast Asian Nations (ASEAN) and the bloc's great achievements which have made it a prestige regional organisation and trusted partner of many countries all over the world.
He emphasised that the unity and consensus are key factors that have helped ASEAN maintain peace, stability and prosperity of the community, the region and the world.
With the establishment of the ASEAN Community in 2015, the bloc made a great stride in connecting its members in terms of politics, economy and culture, Duong said, adding that the Community was formed on the basis of three pillars: the Politics-Security Community, the Economic Community and the Socio-Cultural Community.
The ASEAN is currently the world's sixth biggest economy with a combined population of over 630 million and a total GDP of nearly 3 trillion USD, and the workforce being the third largest globally.
With its strong growth pace, the ASEAN will become the fourth biggest economy of the world by 2050, Duong stressed.
The diplomat also spoke highly of the development of the friendship and cooperation in numerous fields between Vietnam and Mexico since they set up diplomatic ties on May 19, 1975.
He highlighted the significance of the bilateral meeting between President Tran Dai Quang and his Mexican counterpart Enrique Pena Nieto within the framework of the APEC Economic Leaders' Week in Vietnam's central Da Nang city in 2017, which, he said, has contributed to developing the bilateral relations for the interests and prosperity of the two countries and their people.
Two-way trade has enjoyed an average annual growth of around 10 percent, staying at over 5 billion USD in 2017. Vietnam mainly exports garments and textiles, footwear, computers, mobile phones and aquatic products to Mexico.
Nam Dinh urged to build up suitable development strategy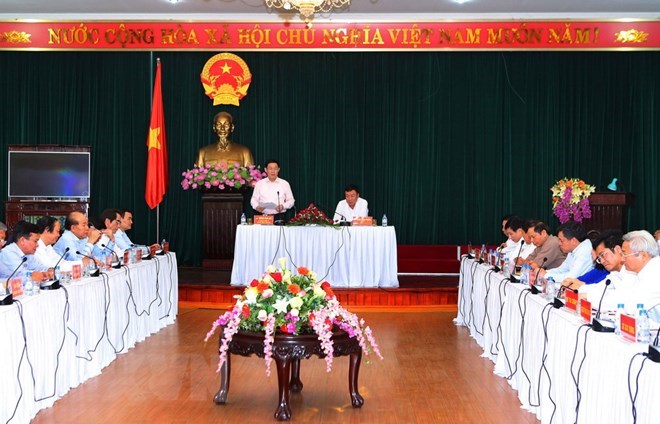 Deputy Prime Minister Vuong Dinh Hue speaks at the working session
Deputy Prime Minister Vuong Dinh Hue has asked the Red River Delta province of Nam Dinh to build up a suitable socio-economic development strategy. 
Specific plans should be devised for each region in order to attract investors and effectively utilise potential and advantages of the province, Deputy PM Hue said at a working session with leaders of Nam Dinh on April 21.  
Apart from streamlining the apparatus and political system and improving the efficiency of public agencies, Nam Dinh needs to push agricultural restructuring and new-style rural area building to improve living standards and income of local people, he told the provincial leaders. 
The Deputy PM also requested the province to speed up the reform of administrative procedures, as well as mechanisms and policies to support businesses and lure investors. 
Deputy PM Hue lauded socio-economic achievements Nam Dinh has recorded over the past time, and its efforts in disbursing public investments in the first three months of this year. 
At the working session, Hue and representatives of ministries and centrally-run agencies cleared up Nam Dinh's concerns regarding the development of My Trung Industrial Park, Hai Hau thermal power project and other transport projects. 
Chairman of the provincial People's Committee Pham Dinh Nghi reported that in 2017, Nam Dinh's economic growth exceeded 7 percent, with export turnover reaching over 1.4 billion USD. 
The province contributed 4.2 trillion VND (185 million USD) to the State budget, surpassing the estimates set by the government. The number stood at more than 1.15 trillion VND (51.1 million USD) in the first quarter of 2018, equivalent to 27 percent of the yearly estimates and up 34 percent year-on-year. 
Between January-March, Nam Dinh developed 150 large-scale paddy field models with a total area of over 7,900 ha. 
Nam Dinh also licensed 14 domestic projects worth nearly 1 trillion VND (44 million USD) and six foreign projects valued at over 90 million USD. 
In 2017, the province disbursed 95.6 percent of the allocated 3.7 trillion VND (163 million USD) in public investments. During the first three months of this year, its public investment disbursement exceeded 1.48 trillion VND (65.1 million USD), completing 45.7 percent of the set target. 
To step up public investment disbursement, Nam Dinh suggested the Government and ministries and agencies adjust the Law on Public Investment, the Land Law and other relevant documents, thus attracting investments in agriculture and simplifying administrative procedures in public investment, particularly in response to natural disasters. 
Doan Hong Phong, Secretary of the provincial Party Committee, said Nam Dinh will focus on projects on maritime economic development, prioritise high-tech agriculture and attract investments in ecological urban areas.
South Africa's Freedom Day celebrated in HCM City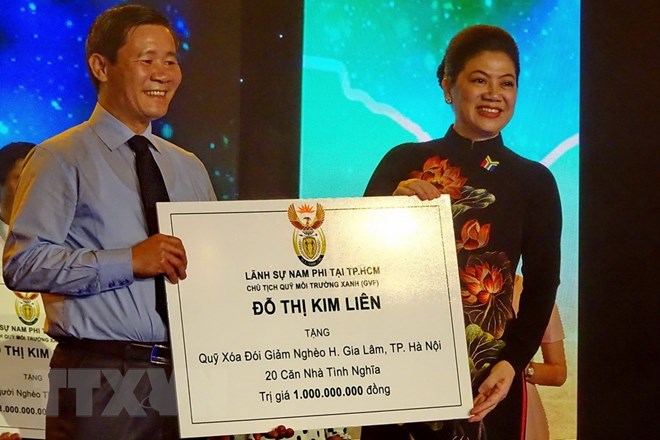 South Africa's Honorary Consul in HCM City Do Thi Kim Lien (R) presents aid worth 1 billion VND to a poverty reduction fund in Hanoi's Gia Lam district 
The Honorary Consulate of South Africa in Ho Chi Minh City hosted a ceremony on April 21 to mark South Africa's 24th Freedom Day (April 27), the 25th founding anniversary of diplomatic ties with Vietnam and the 100th birth anniversary of late President Nelson Mandela.
Speaking at the event, South African Ambassador to Vietnam Mpetjane Kgaogelo Lekgoro highlighted the increasingly developing relations between the two nations.
The two countries agreed to intensify time-honoured friendship and multifaceted cooperation, especially in politics, trade, justice, science, technology and defence.
The bilateral collaboration in telecommunications, training and crime prevention has been also stepped up since the South Africa-Vietnam Inter-Governmental Partnership Forum was set up in 2004, he added.
Mentioning the role of South Africa's Honorary Consul in HCM City Do Thi Kim Lien, the ambassador affirmed that she has made great contributions to boosting bilateral ties by initiating and organising various exchange programmes and trade promotion activities.
The Honorary Consul had received a letter of compliments from the South African Government for her active contributions to promoting its images in Vietnam, Lekgoro said.
Le Quang Long, Director of the municipal Department of Foreign Affairs, said Vietnam always attaches importance to the partnership for cooperation and development with South Africa.
He showed his belief that the bilateral relationship will develop stronger this year thanks to concerted efforts of both sides, for the common interests of their people.
On this occasion, the Honorary Consulate of South Africa provided an aid grant worth 5 billion VND (220,000 USD) to support charitable activities in Vietnam, including building houses for poor people, caring for Heroic Vietnamese Mothers, and presenting scholarships to poor students with good learning performances and disabled students.
Architects urged to focus more on rural architecture, resilient houses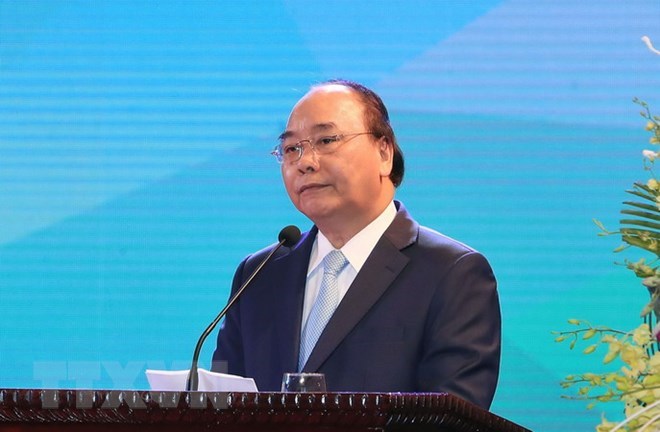 Prime Minister Nguyen Xuan Phuc addresses the event 
Prime Minister Nguyen Xuan Phuc has urged Vietnamese architects to work harder to seek architecture designs suitable to rural and flood-hit areas, thus promoting the socio-economic development of each locality and the whole country.
Addressing a ceremony in Hanoi on April 21 to mark the 70th founding anniversary of the Vietnam Association of Architects (VAA), the Prime Minister recognised contributions of architects to the development of both urban and rural areas.
However, he pointed out that over the past years, the number of architecture works and urban areas with high aesthetic and cultural values has remained few, while urban architecture stayed inharmonic.  Many rural areas have been influenced by urbanisation, reducing traditional architectural values.
The PM asked the VAA and relevant State agencies to join hands in tackling these problems.
He quoted late President Ho Chi Minh as saying that it is necessary to pay special attention to develop houses in rural areas by seeking simple, dry and airy house designs at reasonable cost. 
Asserting that green architecture and green and smart urban development is the major trend of the world, he urged the VAA to take the pioneering role in shaping a Vietnamese architecture towards greener, more beautiful and modern with convenience, sage and humanitarian living spaces that are sustainable and friendly to the environment.
This is also part of efforts to deal with environmental instability, natural disasters and climate change impacts to which Vietnam is among the most vulnerable countries.
He suggested that the VAA should focus on a number of issues, including encouraging architects to improve their capacity and engage in socio-economic development movements of the country, while showing stronger performance in social consultations, supervision and criticism by giving ideas on the building of legal documents, strengthening IT application, and completing the VAA organisation.
The PM said that the Government hopes to listen to the voice of architects in developing the constructive administrative system to serve the people. 
According to VAA President Nguyen Tan Van, so far, Vietnam has more than 15,000 architects. From eight founding members in 1948, the VAA now groups over 4,000 members, he added.
Vietnam, China look for stronger trade ties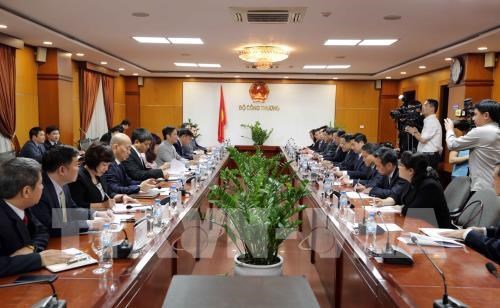 Minister of Industry and Trade Tran Tuan Anh has suggested China's Guangxi consider building a cooperation agreement with Vietnam in the domains of economics, trade, industry and investment, thus further promoting partnerships among the two countries' enterprises. 
During a meeting with visiting Chairman of the Guangxi Zhuang Autonomous Region Chen Wu in Hanoi on April 20, Minister Anh praised the leading role of Guangxi in cooperating with Vietnam in many fields, and Vietnamese localities in particular in Vietnam, especially in economy and trade. 
The Ministry of Industry and Trade (MoIT) attaches special importance to developing cooperation with Guangxi, and considers the locality an important bridge connecting Vietnam with the Chinese market, he said, adding that Vietnam is willing to become a bridge helping Guangxi as well as other Chinese localities boost bonds with other Southeast Asian markets. 
He took the occasion to ask the Guangxi side to urge China's quarantine agency to expeditiously complete the risk assessment procedures, thus allowing Vietnam to officially export milk and dairy products, fruits, pigs and pork to China.
Chen, for his part, said the two should strengthen the construction and connection of border gates, and increase the trade facilitation in order to meet the increasing demand of goods exchange between their enterprises, he stressed. 
Chen proposed the two sides to boost research and development of the "One-stop-shop clearance" model for some commodities such as watermelons and dragon fruits of Vietnam exported through the pairs of Huu Nghi-Huu Nghi Quan (Friendship-Friendship Gate) border gate; and Mong Cai - Dongxing border gate, making it easier for import and export activities between the two nations. 
The annual China-ASEAN Expo (CAEXPO) held in Guangxi is a great opportunity for Vietnamese and Chinese businesses to promote cooperation, he noted. 
According statistics of the Guangxi side, Vietnam is the largest trade partner of Guangxi for many consecutive years. Their two-way trade always accounts for about one third of the total trade between the two nations. In 2017, trade between Vietnam and Guangxi hit 24.12 billion USD, up 0.4 percent year-on-year, of which Guangxi's exports to Vietnam reached over 13.77 billion USD, down 0.7 percent, while its import from Vietnam was over 10.35 billion USD, up 2 percent.
Public Security Minister visits Vietnamese embassy in Kazakhstan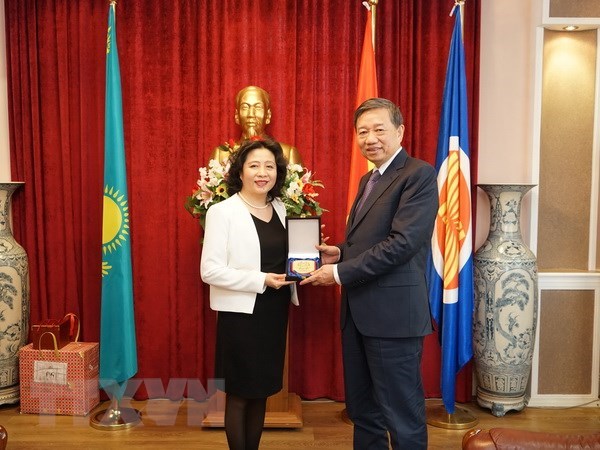 Minister of Public Security Sen. Lieut. Gen To Lam (R) and Vietnamese Ambassador to Kazakhstan Doan Thi Xuan Hien 
Minister of Public Security Sen. Lieut. Gen To Lam visited and talked with staff of the Vietnamese Embassy in Kazakhstan on April 20, the final day of his three-day working trip to the country. 
Lam briefed the embassy's staff on the political and socio-economic situation in the home country, especially its efforts in crime prevention. 
He also informed them about the outcomes of earlier talks between the Vietnamese Ministry of Public Security and the National Security Committee of Kazakhstan, saying that both sides shared experience in fighting crimes and vowed to work closely together to not allow any individual and organisation to take advantage of one country's land to sabotage theother, ensure security and safety of diplomatic representative agencies as well as trade, investment, labour and tourism activities. 
The minister wished that each embassy official and staff member will strive to fulfill assigned tasks and serve as a bridge to foster the traditional friendship between the two countries. 
Vietnamese Ambassador to Kazakhstan Doan Thi Xuan Hien said the embassy actively launched celebrations for the 25th founding anniversary of diplomatic ties between Vietnam and Kazakhstan last year.
Deputy PM: Vietnam treasures relations with China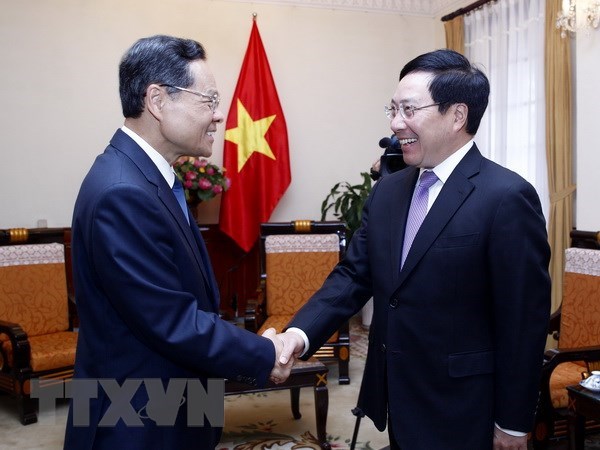 Deputy Prime Minister and Foreign Minister Pham Binh Minh (R) and Chairman of the Guangxi Zhuang Autonomous Region of China Chen Wu 
Deputy Prime Minister and Foreign Minister Pham Binh Minh has affirmed that the Vietnamese Party and State attach great importance to the comprehensive strategic cooperative partnership with China as well as friendship and cooperative relations among border provinces. 
During a reception in Hanoi on April 20 for Chairman of the Guangxi Zhuang Autonomous Region of China Chen Wu, Minh suggested the two sides strengthen friendship exchanges, expand and improve the efficiency of practical and mutually-beneficial cooperation in the fields of trade, transport, agriculture and tourism. 
He asked Guangxi to continue making it easier for Vietnamese goods such as farm produce to enter the Chinese market as well as the transport of Vietnamese products by railway through Guangxi and other Chinese localities to penetrate Asian and European markets. 
The Deputy PM also encouraged Guangxi's major firms to increase investments in Vietnam in infrastructure and transport connectivity in border areas. 
Minh said both sides must enhance border management, implement three documents on Vietnam-China mainland border management, and effectively carry out already signed agreements, including the agreement on protection and exploitation of tourism resources in Ban Gioc waterfall, thus helping to build a borderline of peace, stability, friendship, cooperation and development. 
Chen, for his part, said Guangxi always treasures and wants to strengthen the traditional friendship and mutually-beneficial cooperative ties with Vietnamese ministries, agencies and localities. Guangxi also wants to work with Vietnamese localities to well implement common perceptions of the two countries' senior leaders, he added.
He said Guangxi will realise agreements with Vietnamese border provinces to strengthen friendship and push forward projects on infrastructure connectivity and transportation for the effective and practical development of bilateral economic, trade and tourism cooperation, thereby contributing to the enhancement of the China-Vietnam comprehensive strategic cooperative partnership.
PM receives Chairman of Guangxi Zhuang Autonomous Region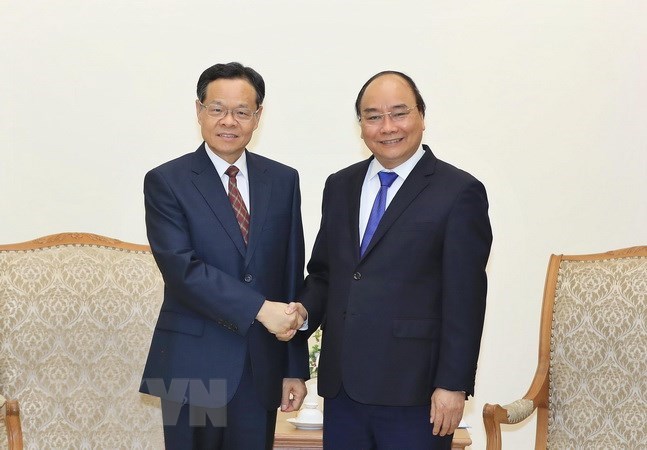 Prime Minister Nguyen Xuan Phuc (R) and Chairman of the Guangxi Zhuang Autonomous Region of China Chen Wu 
Prime Minister Nguyen Xuan Phuc welcomed the ongoing visit to Vietnam by Chairman of the Guangxi Zhuang Autonomous Region of China Chen Wu during a reception in Hanoi on April 20 for the latter, saying it will promote cooperation opportunities between the governments, people and businesses of the two nations. 
The PM emphasised the importance of realising common agreements and perceptions by senior leaders of the two Parties and States as well as further boosting the comprehensive partnership between Guangxi and Vietnam, and between Guangxi and Vietnamese border localities in particular. 
He suggested continuing to upgrade existing mechanisms towards creating the most favourable conditions for customs clearance at border gates, and asked Guangxi to facilitate cross-border trade, promptly pilot the one-stop shop mechanism, and develop logistics infrastructure to raise two-way trade. 
PM Phuc agreed with Chen's proposal to upgrade transport connectivity between Guangxi and Vietnamese localities, saying that both sides could consider building and renovating bridges to boost trade ties. 
Welcoming Guangxi's capable firms to do business in Vietnam, the leader said the two sides should also increase cooperation in the fields of culture, health care, education, labour and people-to-people exchanges, as well as in the fight against crimes and maintaining a borderline of peace and friendship, thus contributing positively to the common achievements between the two Parties, States and people. 
Chen, for his part, said his visit aims to continue realising common agreements and perceptions by senior leaders of the two Parties and States. 
He noted the success of PM Phuc's official visit to China in October 2016 and his attendance at the China-ASEAN Expo (CAEXPO), which he said, opened up a lot of opportunities to step up the comprehensive cooperation between people and businesses of the two countries. 
Guangxi will do its best to connect bilateral cooperation ideas, especially those to raise two-way trade and build infrastructure at border gates, he said. 
According to the Chinese official, Guangxi-Vietnam trade value accounts for one-third of the trade turnover between Guangxi and other countries in the world. Therefore, the province wants to promptly pilot the "Two Countries, One Destination" mechanism to facilitate customs clearance at border gates. 
Chen proposed choosing several outstanding products for the pilot mechanism such as Vietnam's watermelon and China's apple. 
Guangxi wants to enhance road and railway transport connectivity with Vietnamese border provinces and upgrade border gates, he said, adding that the two sides could fortify collaboration in education, culture and health care. 
Chen promised to continue building a borderline of peace and friendship with Vietnam, step up the fight against cross-border smuggling and transnational crimes, and well prepare for the upcoming CAEXPO in which Vietnam is expected to participate.
Samsung helps turn VN into world leading cellphone manufacturer: PM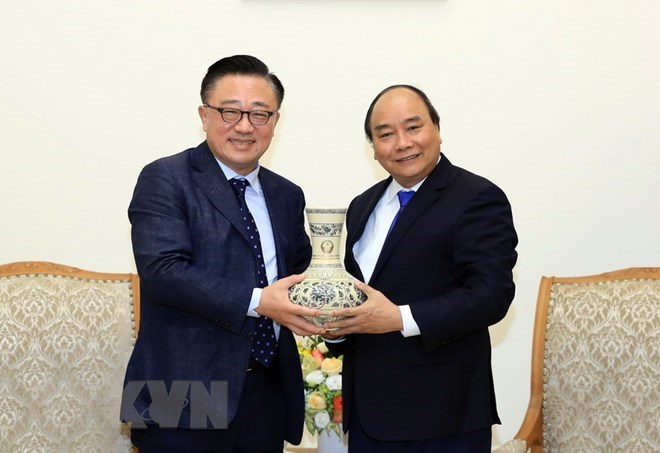 Prime Minister Nguyen Xuan Phuc (R) presents a souvenir to Dongjin Koh, President and CEO of the  Samsung Electronics Co., Ltd. 
Vietnam is proud to host Samsung's presence, which has turned the country into a leading cellphone manufacturer in the world, stated Prime Minister Nguyen Xuan Phuc.
PM Phuc made his remark at a reception for President and CEO of the Republic of Korea (RoK)'s Samsung Electronics Co., Ltd Dongjin Koh in Hanoi on April 20.
Expressing his delight at fruitful growth of Vietnam-RoK ties across all fields, the PM hailed Samsung's achievements and contributions to Vietnam's economic development.
He said the Vietnamese Government highly values efforts made by RoK investors, particularly Samsung, in maintaining their top position among foreign investors in Vietnam for years.
Samsung's cooperation, investment and production are important to the two countries' strategic partnership, PM Phuc added, saying Vietnamese relevant agencies will continue creating the best possible conditions for the group's operation.
He requested the company to implement its research and development centre in line with schedule and commitments it had made with the Government.
The Government leader suggested Samsung expand investment in Vietnam in not only electronic assembly but also technology development. He asked the group to continue its training and technology transfer for Vietnamese firms in the support industry, particularly small- and medium-sized ones, to help them engage in supplying components for Samsung projects.
For his part, Dongjin Koh informed his host about a successful celebration of Samsung Electronics' decade-long presence since its establishment of the first factory in Bac Ninh province.
Samsung always prioritises applying the most advanced technologies in its production in Vietnam, he added, noting that Vietnam is the main manufacturing hub of the conglomerate in the world.
He said Samsung is working to turn Vietnam into its key destination for technology research and to train more high-skilled local engineers and workers.
Affirming the group's determination to stand side by side with Vietnam along its development path, Koh agreed with the PM's suggestion of building electronic and smart cities in Bac Ninh and other Vietnamese localities.  
The Korean guest stated Samsung will expand its investment and production scale and generate more jobs in Vietnam, with an expectation for further assistance from Vietnamese Government and relevant  agencies.  
Samsung has so far invested in six projects worth over 17.3 billion USD in Vietnam. In 2017, Samsung Vietnam posted a revenue of nearly 64 billion USD, with export value reaching 54 billion USD or 25.4 percent of Vietnam's total export value. It generated jobs for 160,000 local workers
HCM City marks 50 years of alliance of national, democratic, peace forces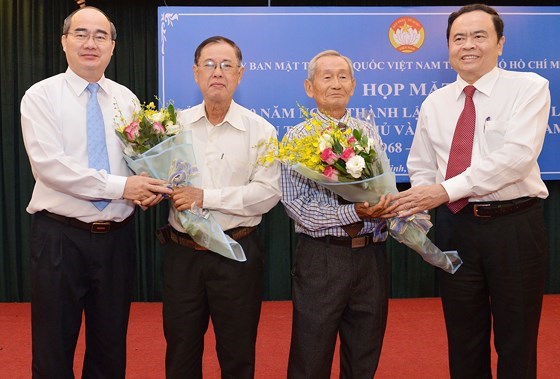 Scene at the event (Photo: sggp.org.vn)
The 50th founding anniversary of the Alliance of National, Democratic and Peace Forces of Vietnam (April 20) was marked at a ceremony in Ho Chi Minh City on April 20.
The event was attended by Politburo member and Secretary of the HCM City Party Committee Nguyen Thien Nhan, President of the Vietnam Fatherland Front Central Committee Tran Thanh Man, and former leaders and members of the Alliance and the National Liberation Front of South Vietnam (NLF).
In January 1968, the 14th meeting of the third Party Central Committee decided to establish a front that had a platform broader than the NLF's. This second front would keep an attitude independent from the NLF but enter into an alliance with the NLF and all persons who wanted to strive for an independent, sovereign, democratic, peaceful and neutral South of Vietnam.
On April 20 and 21, 1968, a congress to set up the Alliance of National, Democratic and Peace Forces of Vietnam was held in the liberated area. It mainly operated in cities, especially big cities, and Saigon (now HCM City) where it headquartered. 
The Alliance issued a declaration and an action plan which aimed to struggle for national independence, democracy and peace in Vietnam. It gathered patriotic movements of students, intellectuals, religious followers, workers, entrepreneurs and people in southern cities. Along with the NLF, the Alliance enhanced the solidarity in the resistance war against the US.
In 1977, two years after the south's liberation and national reunification, front organisations, including the Alliance, merged into the VFF to meet the national development and protection demand in the new period.
Highlighting the significance of the Alliance's establishment to the country's revolution, Chairwoman of the VFF Committee of HCM City To Thi Bich Chau said the Alliance's declaration and action plan truly became part of the revolution in the south of Vietnam. 
Future generations will keep in mind forever its everlasting values, which are patriotism, unyielding revolutionary spirit and strength of the great national unity, she added.
Vietnamese leaders congratulate Cuba's new president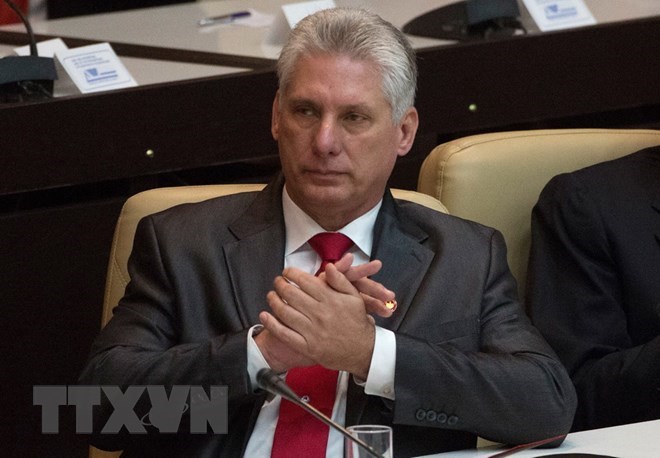 President of Cuba's Council of State and Council of Ministers Miguel Diaz-Canel Bermudez 
President Tran Dai Quang and Prime Minister Nguyen Xuan Phuc on April 20 sent congratulatory messages to Miguel Diaz-Canel Bermudez on his election as President of Cuba's Council of State and Council of Ministers.
The same day, Chairwoman of the National Assembly Nguyen Thi Kim Ngan extended her congratulations to Esteban Lazo Hernandez on his re-election as President of Cuba's National Assembly of People's Power (NAPP).
With 603 votes or 99.86 percent of the votes, Miguel Diaz-Canel Bermudez was elected as President of the Council of State and Council of Ministers by the ninth NAPP for the next five years, succeeding Raul Castro as new leader of Cuba.
He is expected to continue to implement the country's revolutionary tasks and update the economic model.
PM: Streamlined procedures needed in construction sector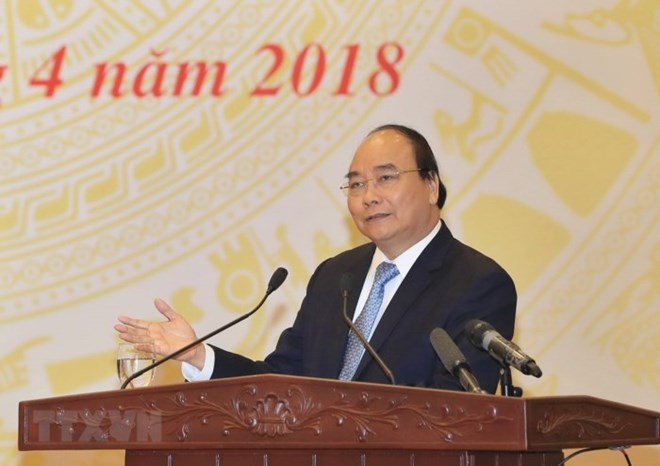 PM Nguyen Xuan Phuc speaks at the teleconference 
Prime Minister Nguyen Xuan Phuc underlined the need to review the legal system on construction while pointing out overlapping laws and legal documents relating to the sector at a teleconference in Hanoi on April 20. 
He noted the Government's message of focusing on tackling bottlenecks of institutions and laws, especially cumbersome procedures and irresponsibility of some agencies and individuals that lead to stagnation in construction. 
Private businesses should be provided with the best possible conditions to invest in this field, the leader said, requesting the intensification of the management of public investment to prevent losses and corruption.
Given wastefulness and corruption in the sector, PM Phuc said land must be auctioned publicly and transparently, and there should be a complete technical standard system. 
Apart from finalising the legal system, it is necessary to promptly remove barriers and difficulties in order to facilitate the implementation of investment projects, he added. 
Strong actions must be taken to handle violations of construction and investment regulations, especially cases of public concern, he stressed. 
At the teleconference, PM Phuc assigned the Ministry of Construction to complete a number of relevant draft laws and a decree to submit them to the National Assembly.
The construction investment has been prescribed in a total of 12 laws, plus various decrees and resolutions of the Government and the Prime Minister, circulars of ministries and agencies, and more than 20,000 criteria. 
The overlapping documents remain the biggest challenge to the construction sector, heard the meeting. 
According to Deputy Prime Minister Trinh Dinh Dung, construction investment accounts for 70-80 percent of the total social investment, even 42 percent of GDP in several years. If the capital is managed strictly and effectively, the sector would develop sustainably. 
This teleconference is the third among 15 national conferences in 2018 that aim to seek suitable solutions to improve national competitiveness, improve business climate and remove difficulties in production and business, thus spurring the country's sustainable development.
Vietnam's Ambassador to US pays New Year visit to Lao embassy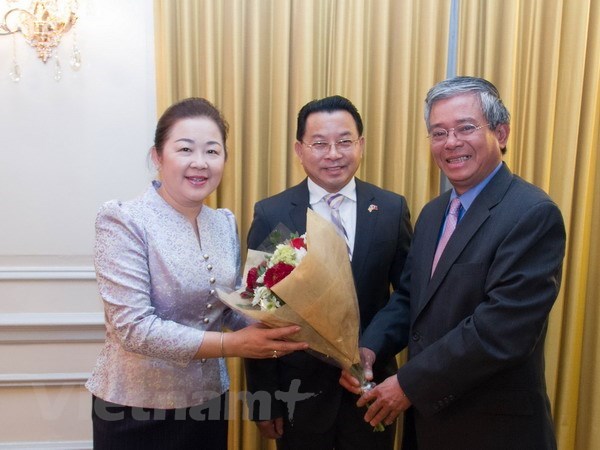 Vietnamese Ambassador to the US Pham Quang Vinh (first, right) presents flowers to Lao Ambassador Mai Sayavongs 
Vietnamese Ambassador to the US Pham Quang Vinh recently wished the staff of the Lao Embassy in the US and their families a new year of health, happiness and success on the occasion of Laos' Bunpimay festival.
During his meeting with Lao Ambassador Mai Sayavongs, Vinh shared his experience and memories on cooperation between the two embassies, including coordination in boosting each country's relations with the US and collaboration between embassies of other ASEAN member countries in the US.
The two diplomats expressed their delight at development of the special Vietnam-Laos friendship, affirming to further promote connectivity between the two embassies in the time ahead.
Since Vietnam and Laos set up diplomatic ties in 1962, the bilateral cooperation has flourished, especially in economy, trade and investment.
Two-way trade reached around 900 million USD in 2017, up 10 percent year on year.
The two countries organised hundreds of activities during the Vietnam-Laos Solidarity and Friendship Year 2017, attracting the participation of all-level authorities, sectors and a large number of people.