Eight outstanding works honoured at Vietnam Glory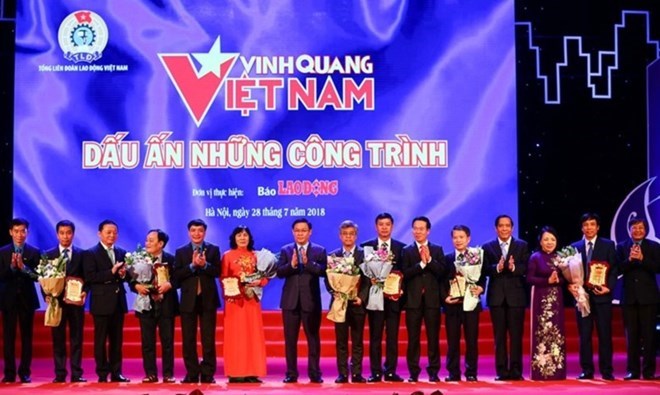 Eight outstanding works of Vietnam honoured at programme entitled "Vietnam Glory" 
Eight outstanding works of Vietnam were honoured at a programme entitled "Vietnam Glory" held by the Vietnam General Confederation of Labour (VGCL) in Hanoi on July 28.
The event is part of the activities to mark the 89th founding anniversary of the Vietnam Trade Union (July 28, 1929-2018) and welcome the 12th Vietnam Trade Union Congress.
The outstanding works are Vietnam's telecom satellites (VINASAT-1, VINASAT-2), the North-South 500kV transmission line, the Hoa Binh Hydropower Plant, the Ho Chi Minh Road, selection and development of two news rice varieties of high quality and productivity, OM6976 and OM5451, Vietnam encyclopedia, Vietnam's 1:200,000 geological map and mineral resources map, and the National Expanded Immunisation Programme.
Addressing the event, Deputy Prime Minister Vuong Dinh Hue praised the significant contributions made by those who developed the works, and described the eight outstanding works as honest symbols and vivid evidence of the Vietnamese intellectuals' daring to think, do and contribute to society.
He called on Vietnamese intellectuals to continue creating more meaningful works, which would become proud examples of the will and intellect of Vietnamese people.
According to VGCL President Bui Van Cuong, the previous 13 versions of the "Vietnam Glory" programme recognised and honoured the collectives and individuals with outstanding achievements in national building and safeguarding, thereby sparking the spirit of patriotism, determination and creative labour for the development of the country, and for the goal of building a strong nation of wealthy people and a democratic, equal and civilised society.
From the beginning of 2018, the VGCL proposed the idea of selecting exemplary works which have left bold marks and contributed significantly to the national construction and defence cause from 1975 until now.
Vietnam joins Asia cultural festival in Slovakia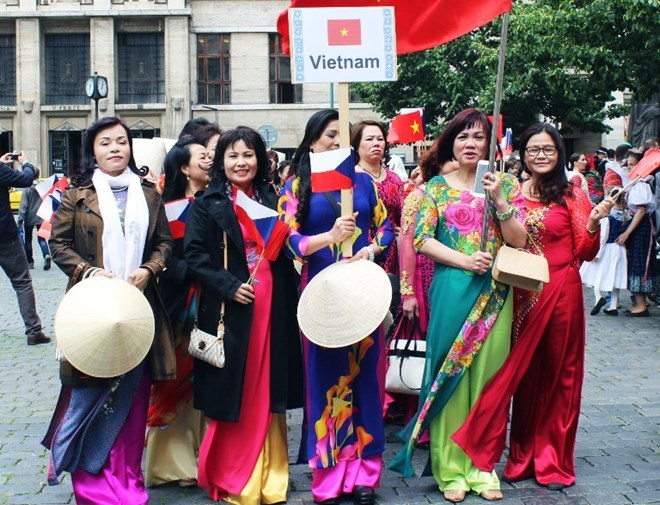 The embassies of Asian countries in Slovakia and the authority of Bratislava held Asia Weekends in the capital city on July 27-28 to promote the diversity of Asian cultures, including Vietnamese culture.
Addressing the opening ceremony, Slovakian Deputy Foreign Minister Lukas Parizek said that the event aims to foster the friendship and solidarity among Asian countries and between Slovakia and these nations.
This is a chance for Slovakian people to get better understanding of unique and diverse cultures of Asian countries, he said.
He expressed his hope that in the coming time, such events will be expanded to strengthen mutual understanding.
Meanwhile, Vietnamese Ambassador in Slovakia Duong Trong Minh said that through the event, the Vietnamese Embassy in Slovakia hopes to promote the Vietnamese culture, cuisine and famous natural landscapes to Slovakian people, thus attracting more tourists from the East European country.
He held that Vietnamese foods are loved by Slovakian people, noting that the number of Vietnamese restaurants serving traditional dishes of Vietnam such as "pho" (noodle) and "nem" (spring roll) is increasing in Bratislava.
During the event, Asian countries such as India, Japan, the Republic of Korea and Indonesia also contributed various art performances.
Vietnamese music and traditional costumes were also introduced, impressing visitors.
Association of war veterans in Germany established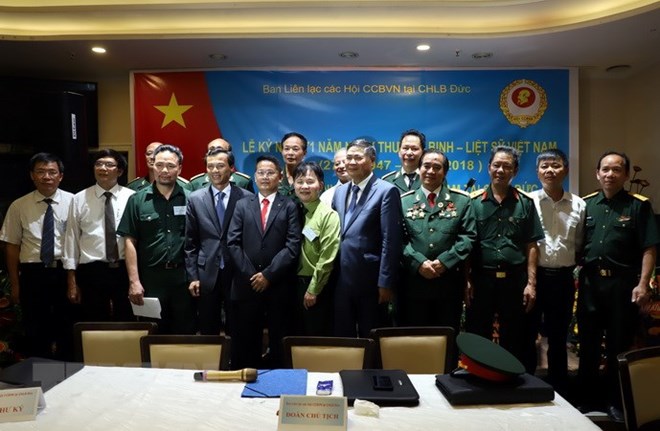 Vietnamese war veterans in Germany celebrate 71st War Invalids and Martyrs' Day (July 27) in Berlin 
The association of Vietnamese veterans in Germany has made its first public appearance at a recent congress in Berlin on the occasion of the 71st War Invalids and Martyrs' Day (July 27).
The association is expected to embrace links between Vietnamese expatriates in the European country, including former soldiers.
Participants at the congress, held on July 28, adopted regulations, plans and orientations of activities for the association's first tenure in 2018-2020. 
Nguyen Quang Anh was elected as President of the association.
Vice Chairman of the State Committee for Overseas Vietnamese Luong Thanh Nghi said the association represents the will and aspirations as well as legitimate rights and interests of the veterans.
The establishment of the association is also to recognise the significant contributions of the veterans in the country's resistance wars and peacetime, he added.
It is hoped to promote solidarity, friendship and cooperation between the people of Vietnam and Germany.
Digital technology helps poor people access banking services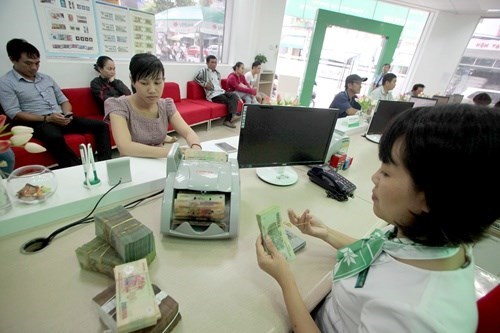 Transactions in progress at a VPBank branch (Illustrative image) 
The application of digital technologies in providing banking services has proven effective, not only bringing better experience to urban customers but also helping banks introduce their services to low-income households. 
Statistics from the Ministry of Information and Communications show that Vietnam now has 123.91 million mobile subscribers, up 4.3 million compared to that in early this year. 
This is said to be a good chance for banks to develop mobile banking services, thus expanding their customers' group, especially poor households and women. 
Speaking at a recent workshop on mobile banking for the poor and women held in Hanoi, Luu Thi Thao, deputy director of the Vietnam Bank for Social Policies (VBSP)'s Centre for Information and Technology, said the bank has piloted SMS services for its borrowers in all branches nationwide. 
The service has helped save time and costs for both customers and banks.
According to the VBSP, the bank provides the SMS service to its customers in all the 63 cities and provinces nationwide since 2016, helping them save more than 42.8 billion VND (over 1.84 million USD). The service costs the bank 250 VND per SMS, thus reducing their operation costs by 12 times.
The service helps households regularly get updates on the loans, such as payment deadlines and term deposits through texts on their mobiles. 
The VBSP has identified SMS services as one of the effective tools to help poor households get acquainted with digital technologies, help the bank diversify its products and services, and improve its operation efficiency, Thao noted. 
The bank plans to apply the mobile banking service to 850 loan and savings groups with 30,000 borrowers, she added. 
With the advantages brought about by mobile phones, many banks in Vietnam have been promoting the development of mobile banking services, making the access to banking services easier for people living in remote areas.
Dinh Xuan Ha, Head of the Division of Research and Development of Financial Institutions of the Banking Strategy Institute under the State Bank of Vietnam (SBV), said the digital technology would help banking services become acceptable for low-income customers, thus increasing the number of users. 
The technological application will also create a momentum to promoting comprehensive finance, he added. 
Ha Hai An, Deputy Director of the International Cooperation Department  under the SBV, said the application of digital technology in providing banking products and services  has helped reduce costs and increase utility and convenience for customers.
Banks in general and the VBSP in particular have well deployed policy credit programmes to help poor households and policy beneficiaries access preferential capital sources, contributing to promoting sustainable poverty reduction, ensuring social security, and creating strong changes in advantaged and ethnic minority areas.
The SBV is building a national comprehensive financial strategy which values digital technologies of banks and credit institutions. The ultimate target is to popularise access and use of financial products and services, especially to poor people.
Bodies of two pilots recovered after military aircraft crash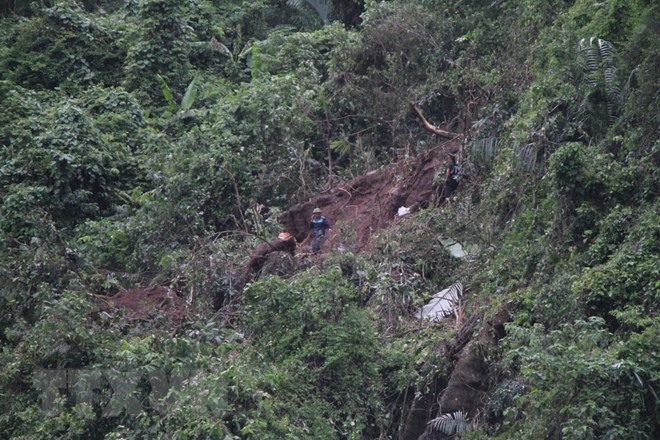 The location where the Su-22U military aircraft crashed on Thursday in Nghệ An Province. 
Rescue forces on Thursday night recovered the bodies of two pilots whose military aircraft crashed in the central province of Nghệ An's Dừa Village, according to the High Command of Military Region 4.
Their remains were taken to the Funeral Home of Military Region 4, located in Vinh City.
On Friday morning, the Ministry of Defence, Air Defence and local authorities held a memorial ceremony for the two airmen.
The air force and families of the two pilots will hold a funeral for the pair at the mortuary of the Military Medicine Hospital No 4 in Vinh City, Nghệ An Province on Saturday morning.
Their remains will then be taken back to their hometowns in Hà Nội and Thái Bình Province.
The authorities, meanwhile, continued their search on Friday morning at the scene for the remaining pieces of the aircraft. They have also found the black box of the aircraft, which will provide crucial data to find out the reason behind the crash.  
The pilots died when their military aircraft crashed in Nghệ An Province on Thursday afternoon after losing contact during a training session. 
Workshop underlines importance of collective bargaining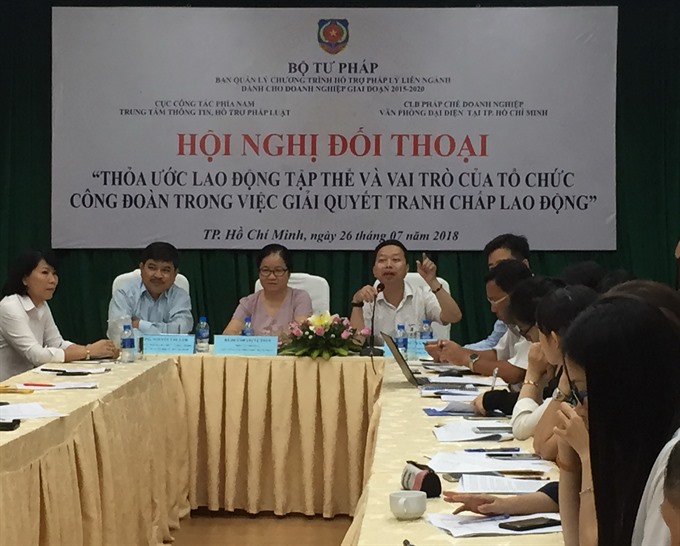 Representatives of trade unions at 70 firms in HCM City and neighbouring provinces participated in a workshop on Thursday (July 26) on collective agreements. 
In the context of the relentless global integration, trade unions need to modernise their organisation and functions to better represent workers through collective bargaining, labour officials have said.
To comply with the requirements of the Comprehensive and Progressive Agreement for Trans-Pacific Partnership (CPTPP) and EU-Việt Nam Free Trade Agreement, and more importantly to fulfill its obligations as an ILO member state, Việt Nam needs to respect and promote the 1998 ILO Declaration, particularly Convention 98 on the right to collective bargaining, Nguyễn Tất Năm, head of labour- wage- social insurance office at HCM City's Department of Labour, Invalids and Social Affairs, said.
Collective bargaining provides the basis for sound labour relations, he told a workshop held on July 26 to guide attendees on the concept.
Typical issues on the bargaining agenda include salaries, bonuses, allowances and salary hikes; working hours, overtime and breaks; training; and occupational health and safety, he said.
Việt Nam has a fairly comprehensive legal framework for collective bargaining and collective agreements though significant limitations remain, he said.
On the employees' side, trade unions are the only bodies permitted to represent employees' interests and bargain on their behalf.
But trade union leaders are usually managers of those very companies, he added.
Trần Văn Trí, a partner at FUJILAW, said labour unions should be independent and free from interference of employers to secure employees' benefits.
However, it is not uncommon to find that trade union leaders are managers or human resource officials, he said.
Employees must be educated about their right to participate in the process of collective agreement, which is described in the Labour Code, he said.
Between 2012 and 2016, more than 27,800 collective agreements were signed, according to the city's Department of Labour, Invalids and Social Affairs.
The number of firms that have signed collective agreements account for 66 per cent of firms with trade unions.
The city is home to more than 15,200 firms that employ more than 1.45 million workers. Nearly 88 per cent of them have trade unions.
In HCM City, around 5,000 collective agreements are inked or amended every year at 80 per cent of firms with trade unions.
Nguyễn Thành Đô of the HCM City Federation of Labour said employees' rights and concerns are sometimes not addressed while the process established for resolving problems does not work properly, resulting in the risk of strikes.
In the first six months of this year, more than 3,600 employees in the city took part in 14 strikes.
Last year, 20,700 employees were involved in 35 strikes, 16 fewer than in the previous year. Violations of the Labour Law and labour agreements, and failure to pay salaries were the major reasons to strikes, Đô said.
Representatives of trade unions from 70 firms in HCM City and neighbouring provinces attended the workshop. 
Campaign seeks to make roads safer for young people
The Automobile Association Vietnam is carrying out a campaign in Hà Nội called #3500LIVES featuring training and public awareness initiatives focused on key "golden rules" for road safety to reduce deaths of people aged 15 to 29 in traffic accidents.
During the month-long campaign ending on July 31, it has focused on training and communication about using a child safety seat, buckling up, not texting and driving, and wearing a helmet.
It provided training in safe motorcycle driving for 200 students at Thủy Lợi University in Hà Nội, spoke about the dangers of using a mobile phone while driving and the importance of helmet use.
Two hundred people were also told about the safest way to travel with children in a car and the need to wear a seatbelt.
After the training the rate of parents who understood the age at which their children should start using a child seat doubled to 53 per cent, while the rate of those who understood which position in a car is safest for children to sit increased from 46 per cent to 77 per cent.
The rate of parents who agreed that using a child seat is safer than letting children ride on passengers' laps also increased from 59 per cent to 86 per cent.
AAV has also put up 12 hoardings to encourage people to follow three golden rules: use a correct child seat and wear the seatbelt when driving a car, wear a helmet when riding a motorcycle, and don't use a mobile phone while driving.
They have been installed at 12 public spaces around the city where there is heavy traffic but clear visibility and easy access for drivers.
More than 700,000 commuters are thought to have seen them.
Every day 3,500 people are killed on roads around the world. Young people are particularly affected, with road crashes being the number one cause of death of people age from 15 to 29. To combat this alarming trend, the Fédération Internationale de l'Automobile is funding the campaign. 
HN leads the nation in rural development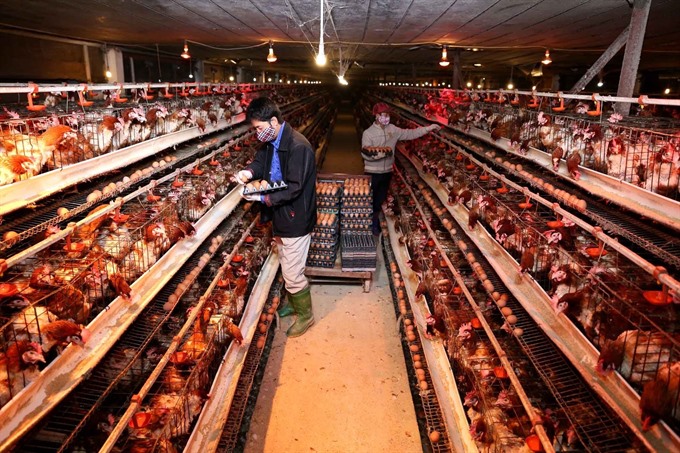 Farmers collect eggs at a chicken farm in Ba Vì District in Hà Nội. 
Hà Nội is the leading country in terms of rural development and is setting an example for the nation with 294 out of 386 districts and communes meeting or exceeding the Government's new rural development standards.
One of the city's most celebrated achievements was its success in reorganising agricultural assets. The city is now running 154 large rice fields and 101 organic vegetable farms. Reorganising agricultural land into centralised and large production zones is regarded as a critical step in rural development to take advantage of shared infrastructures, machinery and manpower. However, it has proven to be one of the challenging tasks due to the inherent complexity of its nature, which involves a mirage of logistics and community-related issues.
In addition, 15 livestock production centres were established or relocated from residential areas. Nearly 4,000 farms have been registered and reported to the city's authorities with more than a hundred farms employing high-tech solutions. The city is also home to some 12 well-known brands of agricultural products in both domestic and international markets.
As the city's rural areas develop, citizens' incomes have been steadily rising. The city's average income has reached US$1,800 with the number of poor households at a record low at less than 2.5 per cent based on a report by the city's census office last June.
"It was a bold and important move, which required a tremendous amount of political will and co-operation between the city and Hà Nội's residents to complete," said Minister of Agricultural and Rural Development Nguyễn Xuân Cường.
"The city must now focus on developing quality products, building its own brands and improving its policy to encourage and guide businesses to make more investment in agricultural production."
Ngô Thị Thanh Hằng, deputy secretary of the city's Party Committee, said Hà Nội's objective for 2018-20 was to continue pushing for faster development of rural areas as well as to restructure its agricultural sector to produce and add even more value to farm products. Hằng stressed the need to further streamline and improve the legal process to support farming communities, especially with the issuance of land right certificates.
The city's natural resources and environment department has been charged with the task of overseeing some 30 districts and communes. Five task forces have been sent to local communities to answer questions, collect inquiries and help local authorities to process paperwork. Obtaining land right certificates, for many farmers, is a major step towards securing financial co-operation from commercial banks to expand their production capacity.
The city, however, is aware of numerous obstacles that must be addressed. From 2018-20, Hà Nội will continue to encourage enterprises to make more investments, preferably in high-tech farming practices.
Centralised slaughtering houses and food processing centres are priorities and seen as key to improving the quality control process and food safety standards.
Poverty eradication remains an objective for the city, especially in remote areas where the poor household ratio is high, such as the districts of Ba Vì (4.8 per cent), Sơn Tây (3.17 per cent) and Phú Xuyên (3.07 per cent). 
HCM City imposes fines on illegal pharmacies, health clinics
The HCM City People's Committee has imposed fines on many pharmacies and health clinics for their violations of health care regulations.
The city's health inspectors fined a clinic owned by Lê Trần Thảo at 68 No37 Street in District 7 a total of VNĐ100million (US$4,314) for offering medical examinations and treatment without a medical examination licence.
A pharmacy store owned by Nguyễn Tuấn Quang at 26 Nơ Trang Long Street in Bình Thạnh District was fined VNĐ46 million (US$1,984) for selling medicines of unknown origin.
In addition, the city's health inspectors fined Tân Hưng General Hospital at 87 Trần Xuân Soạn in District 7 VNĐ100 million for providing medical examinations and treatment beyond what was permitted in its licence.
Art workshop features folk singing of southern region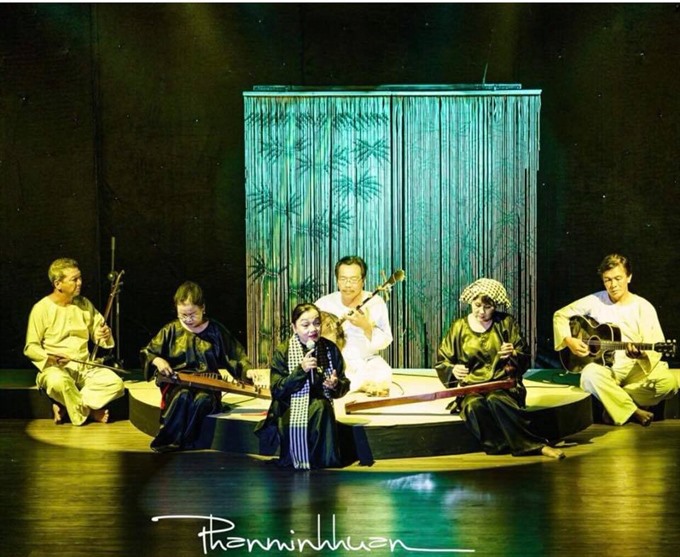 A performance of Hò and lý, folk singing genres of the southern region. — Photo courtesy of the organiser
A workshop featuring hò and lý, two folk singing genres originating in the southern region, will open next week in HCM City.
The event, Hò-Lý Phương Nam (Folk Singing of the South), will include performances by veteran artists, including singer Tánh Linh and band Sáu Hưng.
It will feature talks by cultural researcher Dr. Nguyễn Thị Mỹ Liêm, who has years of experience in the art and has written books and documentaries on traditional culture, lifestyle and arts of the South.
The workshop is part of Diễn Xướng Nam Bộ (Folk Singing Genres of the Southern Region), a project to preserve diễn xướng (folk singing and talking) of the South by the Soul Music and Performing Arts Academy's Soul Live Project.
The Soul Live Project is a long-term cultural programme that aims to preserve and expand Vietnamese traditional music and theatre.   
The project includes a series of performances, talk shows and seminars featuring the history of diễn xướng, including folk songs, dances and plays of various styles created and performed by southern farmers in the 18th and 19th centuries.  
It has received support from dozens of cultural researchers, music and theatre critics, and veteran performers of the region.        
The project's first workshop in April was welcomed warmly by audiences, many of them students at cultural and art school.   
The second workshop Hò-Lý Phương Nam will begin at 7pm on August 4 at the Soul Live Complex at 216 Pasteur Street in District 3.
Heritage preservation requires contemporary relevance: PM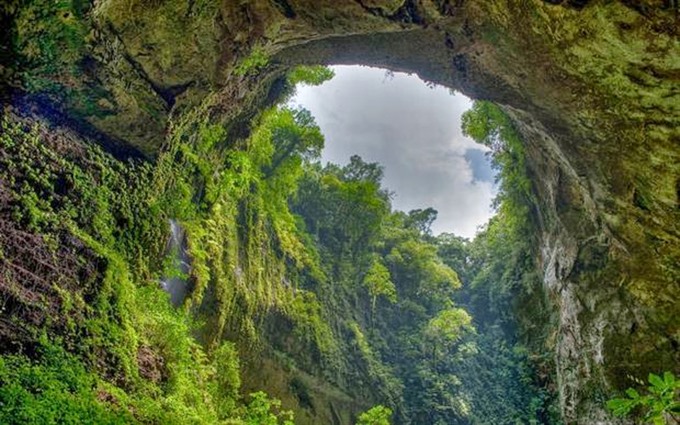 Phong Nha-Kẻ Bàng National Park in the central province of Quảng Bình, inscribed on the World Heritage List in 2003. The Park's landscape is formed by limestone plateaux and tropical forests. File Photo
The first-ever national workshop judging the country's progress towards protecting cultural heritage sites to achieve sustainable development was held here yesterday, gathering local leaders, cultural experts and researchers.
According to statistics of the Ministry of Culture, Sports and Tourism, there are over 40,000 relics examined under the Law of Cultural Heritage, of which 10,000 relic sites have been classified. More than 3,400 relic sites have been recognised as national relic sites and 95 sites as special national relic sites.
UNESCO has listed eight sites as a World's Cultural and Natural Heritage Site.
In terms of intangible heritage, the country has more than 61,600 intangible heritages under the Law of Cultural Heritage and Convention on Protecting Intangible Culture Heritage. Eleven of them have been listed on the Representative List of Intangible Cultural Heritage of Humanity.
As part of the World's Memory Programme of UNESCO, Việt Nam has three material heritages recognised as World Documentary Heritage and four as Documentary Heritage in the Asia-Pacific Region.
Since 2012, the Prime Minister has recognised 142 national treasures.
Concerned agencies have identified obstacles such as the lack of budget for restoration and the rapid development of tourism without proper facilities and legal infrastructure to prevent behaviours leading to serious pollution at heritage sites.
At some sites like Tràng An, Phong Nha – Kẻ Bàng, Hạ Long Bay and Bà Đen Mountain, some individuals and agencies have illegally constructed buildings and infrastructure to serve tourists.
Addressing the workshop, Prime Minister Nguyễn Xuân Phúc highlighted the heritage sites as natural treasures given to the country or the gifts yielded by generations of hard work by the Vietnamese people.
The PM held that concerned agencies should discuss protective measurements to develop heritage in sustainable ways.
He recalled President Hồ Chí Minh's ideas and various measures by the Party, Vietnamese legal system and the Constitution intended to protect historical sites, cultural and artistic heritages and beautiful landscapes of the country.
The PM stressed the need to treat heritage sites and cultural practices as vibrant and contemporarily relevant.
In order to develop intangible heritages, it is necessary to praise artists and consider them as national treasures, the PM said.
He also suggested working for people's benefits in harmony with preservation and development, in order to preserve heritages and develop tourism at the same time.
"The culture sector's mission is reviving the above-mentioned heritages to make them attractive to people," he said. "Especially, we should train quality human resources to carry out this mission."
The PM said there have been some positive results. For example the number of international tourists has increased sharply in recent years.
Last year, eight cultural and natural sites in the country received 16 million visitors and seven million were from overseas. The proceeds from entrance tickets and direct service fees were over VNĐ2,500 billion (US$107.6 million).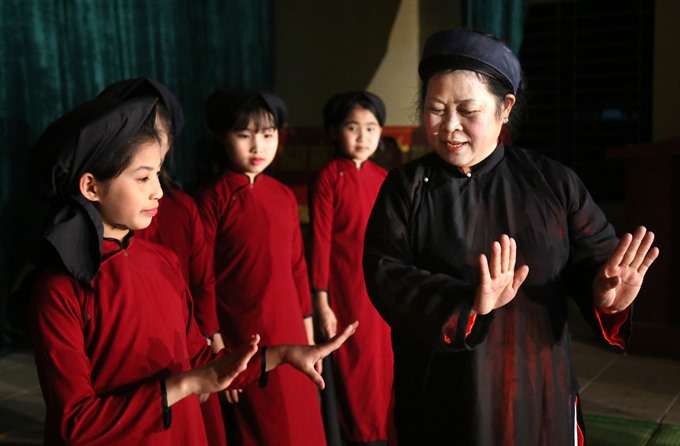 The PM held that the relationship between preservation and development to assure the rights of residents at heritage sites has been dealt with poorly. He recalled his recent visit to Yên Bái Province, where he asked local leaders: Why are the locals who made these stunning beautiful terraced rice fields so poor, while the terraced rice fields in Mù Cang Chải have been designated a national landscape?
He pointed out that many heritage sites have been modernised and deprived of their unique features. Policies supporting folk artists have been implemented slowly. The role of the people in preserving and developing heritages' values has still been limited.
The PM stressed some basic policies for preserving heritages and developing sustainably.
First, the task is not the State's responsibility only. It is the cause of the whole community. The State creates the legal foundation and policies for people to play key roles in preserving and handing down the heritage through generations. Heritages should be developed from families, villages, schools and society.
The PM highlighted the need to promote integration and international exchanges in preservation and managing heritages.
The PM asked concerned agencies to complete a legal documents system and administrative procedures dealing with heritages in the next few years.
At the same workshop, Michael Croft, representative and head of UNESCO's Hà Nội office suggested five key recommendations for World Heritage management moving forward.
The first recommendation is to situate World Heritage within a sustainable development framework.
"Much more needs to be done to engage stakeholders outside of the sector to realise the broader economic and political importance of heritage protection and contribute effectively to it," he said.
The second recommendation is unifying and empowering the heritage authorities at both central level and local level.
He also suggested strengthening the role of technical advisory bodies.
Besides, reviewing and regulating the public private partnerships in World Heritage sites is necessary, he said.
"An important step has been made with the policy prioritising financing for re-investment in conservation, newly regulated by Decree 109 in 2017," he said. "The enforcement of this policy in practice at the local level is therefore highly important. It is also recommended to specify the categories of conservation budget expenses and put in place a regular reporting system between the local and central level." 
First dance and music camp ends in Hanoi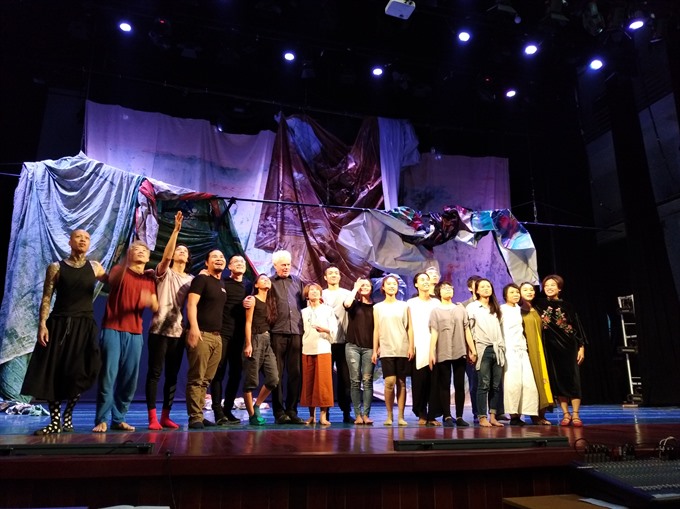 Vietnamese artists and the camp's art directors German Heiner Goebbels (seventh from left) and Vietnamese Trần Ly Ly (first from right) pose after the show. — Photo VNOB
Seventeen Vietnamese musicians and dancers put on a show at the Việt Nam Dance School yesterday after completing the Dance & Music Summer Camp.
The 2-hour show included performances by eight choreographers and dancers and nine musicians and composers who were selected to participate in the camp from July 16 to 27.
"Don't expect a perfect performance," said German director Heiner Goebbels — one of the camp's art directors, at the closing ceremony. "We have just one week to work together and for the artists to reflect the relationship between music, light, the stage and their movements."
Alongside Goebbels, Trần Ly Ly - director of Việt Nam National Opera and Ballet (VNOB) is another art director of the camp. Goebbels belongs is well versed in the contemporary music and theatre scene. His compositions for ensembles and big orchestras are currently performed worldwide as well as several of his music theatre works and staged concerts.
Goebbels worked for nearly 20 years as a professor at the Institute for Applied Theatre Studies of the Justus Liebig University in Giessen and was president of the Theatre Academy Hessen for twelve years. He was the artistic director of the Ruhrtriennale International Festival of the Arts.
Director Ly is one of the leading choreographers working in contemporary dance in Việt Nam. After graduating from the Việt Nam Dance College in 1996 with honours she studied and worked as a dancer and choreographer abroad in Australia and France.
She became popular with contemporary dances such as One Day; Zen and Burning Man's Figure, which sparked a big debate on contemporary dance in Việt Nam.
For the first time, the camp was co-organised by Hanoi Goethe Institute, VNOB and Việt Nam Dance School in Hà Nội from July 16 to 27. The camp was initiated last year by Goethe Institute's director Wilfried Eckstein after the institute had successfully held a dance festival for Asian and European dancers for seven consecutive years. 
Friendship association fosters Vietnam - Russia relations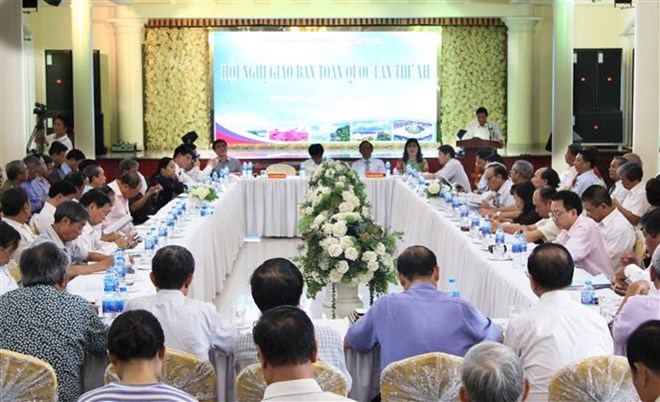 At the meeting of the Vietnam-Russia Friendship Association held on July 28 
The Vietnam-Russia Friendship Association has held many activities in various fields since the start of this year and become a bridge for cooperation in economy-trade, culture-education and science-technology between the nations, said its President Tran Binh Minh. 
Minh made the statement at the association's meeting which took place in the north province of Lang Son on July 28.
The association's portal was launched in February, promptly proving information and updates on significant events and foreign activities of Vietnam and Russia.
The Vietnam-Russia Friendship Association's activities have also enhanced people-to-people exchanges, contributing to the Vietnam-Russia traditional friendship. 
In the coming time, the association is set to arrange visits of Russian delegations to Vietnam while stepping up communication work.
On the occasion, the association presented awards to 38 winners of a writing contest on memories in Russia and the Vietnam-Russia friendship, which was held to celebrate 100 years of the Russian October Revolution. 
Ho Chi Minh City eyes to form innovation district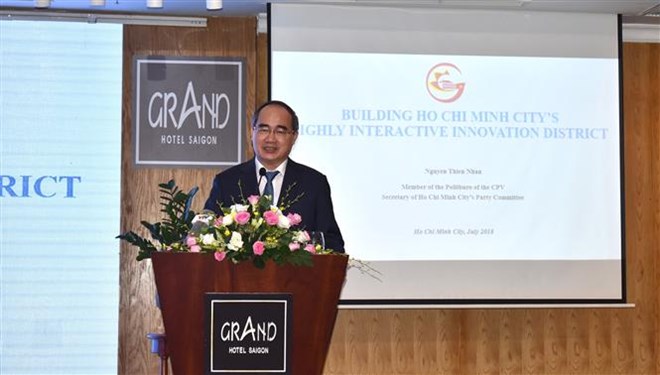 Secretary of the Ho Chi Minh City Party Committee Nguyen Thien Nhan speaks at the international seminar "Vision for Innovation District in Ho Chi Minh City" on July 28 
Ho Chi Minh City plans to combine its Districts 2 and 9, and Thu Duc district into a highly interactive innovation district.
The information was made by Secretary of the municipal Party Committee Nguyen Thien Nhan at an international seminar themed "Vision for Innovation District in Ho Chi Minh City" on July 28.
According to Nhan, Thu Duc district will focus on research and innovation, while District 2, with its Thu Thiem new urban area, will play a role as an international financial centre, and District 9 will be a research and development centre, with the highlight of its Hi-tech Park.
The innovation district will concentrate on research, human resources training and technology transfer, and contain of a service centre, a hi-tech manufacturing area and a space for culture and entertainment, he added.
The leader also revealed that within 2018, the city will organise a contest for international consulting units to build a vision as well as specific measures, and then make a master plan for the innovation district.
Ousmane Dione, Country Director of the World Bank in Vietnam, suggested Ho Chi Minh City consider the entire ecosystem of the innovation district in terms of planning, policies, design, infrastructure and organisation, not focusing only on technology.
Meanwhile, a representative from the municipal Department of Science and Technology proposed the city carry out policies to attract and support investors as well as experts and scientists, and intensify connectivity between the innovation district and other centres in the city. 
Ho Chi Minh City is the largest economic hub of Vietnam and has a high-quality labour force, with its labour productivity posting 2.7fold higher than the country's average.